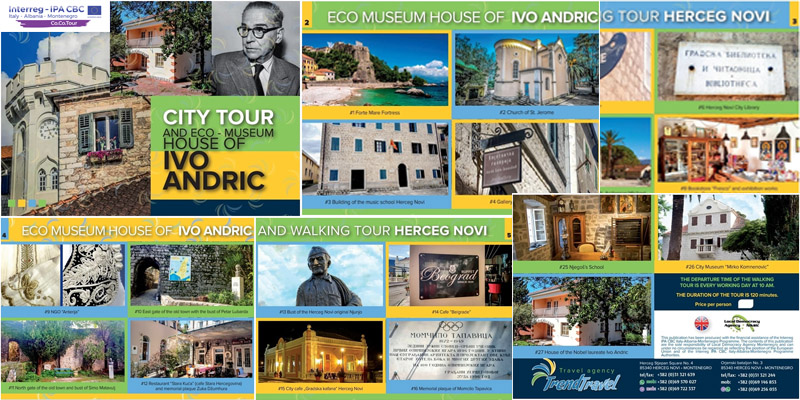 Tourist Package for Herceg Novi
Overview
Eco-museum, The House of the Nobel Prize Winner Ivo Andric is now available for visitors through a guided tour. Local Democracy Agency, as a partner in charge for promotional activities, established partnership with one of the most prominent touristic agencies in Herceg Novi - Trend Travel. This agency is specialized in organizing thematic tours in Herceg Novi and surroundings and it has well developed market, contacts with other tour-operators and network for promotion.
The guided tour starts at the House of Ivo Andric, where visitor can see permanent exhibition about the life of only Nobel Prize winner for Literature from Yugoslavia and the electronic totem that provides info about the House itself, but also about other Points of interest within the eco-museum/community museum. These represent the cultural/historical, natural and immaterial heritage.
The "magic" of Herceg Novi that attracted famous writer and his wife, but also many other artists and creative people such as Zuko Dzumhur, Branko Copic, Mihailo Lalic, Petar Lubarda, Vojo Stanic and many others, still inspire the citizens of Herceg Novi to create beautiful things for the community and for the visitors. Many cultural layers, visible in architecture, rich and colorful nature and vegetation, the sea and the mountains obviously "trigger" some emotions and brain activities at people and deliver artistic products, paintings, literature, handcrafts, culinary, sports etc.
This package is available as a two-hours guided walking tour, and will be promoted via social networks and on line tourist fairs during the Covid19  situation, and in future it will be offered via touristic sub-agents' network and online.
https://aldnk.me/guided-touristic-tour-eco-museum-our-result-within-coco-tour-project/
This project is co-financed by the European Union under the Instrument for Pre-Accession Assistance (IPA II).